EMAIL MARKETING & NEWSLETTERS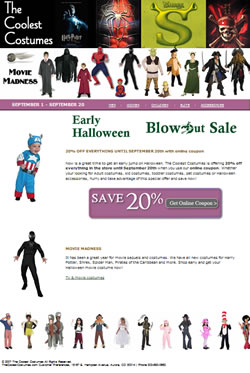 Custom Email Designs
Communicate directly to your user base through email newsletters. With an opt-in subscription form on your web site, you can begin building your list of subscribers. You may also import your current list as long as it passes our spam rules.
You can use one of our templates, have us design a custom template or design your own. We can manage your entire campaign or you can create your own using our intuitive tools and send them yourself.
Measure your success with powerful analytic tools. With a variety of reports, you will be able to see how people are interacting with your campaign.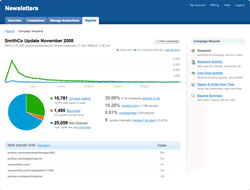 Snapshot of your Campaign
Who has opened the email
Which links were clicked
Forwarding to friends
Unsubscribing
Bounces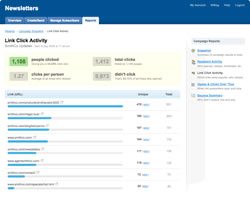 Link Click Activity
How many people clicked a link
Total Clicks
Clicks per person
How many clicks for each link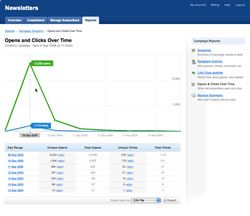 Clicks and Opens Over Time
Get an overview for the life of the campaign
See exactly who is checking out your email
How many times they're doing it, and when they did it
Drill down all the way to minute by minute detail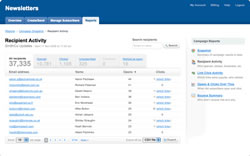 Recipient Activity
In-depth detailed reporting on your campaign
Who opened, who clicked, who bounced and who unsubscribed
Search for a specific subscriber to see exactly what they did with your email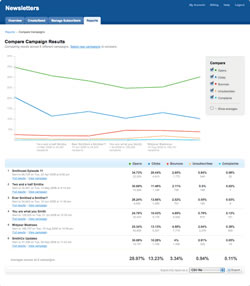 Compare Campaign Results
Easily compare any of your email campaign with each other. Use this information to improve your next campaign. Compare results to see if your open rate improved? Are you seeing less bounces over time? Which features and links get the most buzz? Take control of your email campaigns and enjoy your success.
Simple Pricing
Pay when you send. No monthly charges or fees.

Key Benefits
E-mail marketing is often reported as second only to search marketing as the most effective online marketing tactic.
Distribute information to potential customers or members at a relatively low cost.
Reach substantial numbers of e-mail subscribers who have opted in to receive e-mail on subjects of interest to them.
Generate repeat business enticing past customers with well crafted email campaigns.
With the analytical tools available, tuning and optimization on different variants can help improve each succeeding mailing campaign.
Your Mail Campaign Login